NAP Youth Committee
Youth is always trending with the YC! Igniting a passion for parliamentary procedure in young people is our mission. The National Association of Parliamentarians partners with various youth organizations that host regular competitions at local, state, and national events, and these competitions are an excellent tool for recruiting prospective young members to NAP. The committee works with the following youth organization partners: Business Professionals of America (BPA), Future Business Leaders of America/Phi Beta Lambda (FBLA/PBL), Family, Career and Community Leaders of America (FCCLA), Future Health Professional (HOSA), and SkillsUSA.
Today's youth represent the Next Chapter of Keepers of the Democratic Process. They are beginning the work of building new relationships – drawing members of NAP together within and across cities, states, and countries. The Next Chapter Campaign launched in June 2020. The goal of the campaign is to increase the number of youth group affiliations, improve recruitment and retention, involve groups in the creation and implementation of programs and activities that highlight youth, and provide opportunities for groups and teams to share their expertise with other NAP members.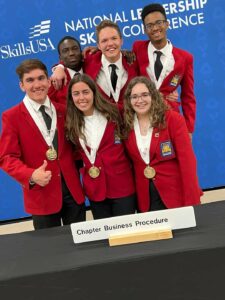 2022 Skills USA Gold Medalist Team in Chapter Business Procedure
Gloucester County Institute of Technology
Sewell, NJ
Team members: Anslem Osayemi, Kayla Barrett, Daniel White, Mason Paul, Shubh Katakiya, and Jennifer Levy
The competition was held during SkillsUSA 2022 National Leadership & Skills Conference, June 21-24, 2022, in Atlanta, GA.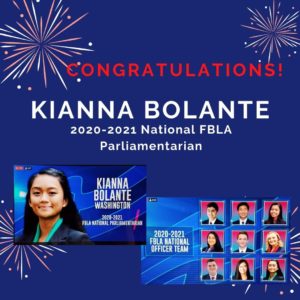 Future Business Leaders of America (FBLA) is devoted to developing business skills in secondary school students through local chapter activities as well as state and national leadership conferences.
FBLA's Phi Beta Lambda (PBL) division continues developing business skills in students as they continue on to post-secondary education. https://www.fbla-pbl.org/
Family, Career and Community Leaders of America (FCCLA, formerly FHA) helps young men and women address important personal, family, work, and societal issues through family and consumer science education. FCCLA members develop skills for life: goal setting, problem-solving, decision-making, and effective communications. https://fcclainc.org
Health Occupations Students of America (HOSA) is a national career and technical organization for students interested in health careers. HOSA's activities provide occupation and leadership skills to promote career opportunities in the health care industry. http://hosa.org
SkillsUSA serves high school and college students enrolled in technical skills and service occupations (such as health) programs of study. SkillsUSA programs strive to establish industry standards for job-skills training in the classroom. https://www.skillsusa.org
Business Professionals of America (BPA) aims to prepare a world-class workforce through the advancement of leadership, citizenship, academic, and technological skills. Its conferences, workshops, and skills competitions encourage personal and professional growth among secondary and post-secondary students. https://bpa.org
A convention internship program brings a student representative from each of the partnership organizations to the NAP biennial convention. The interns assist with convention registration, serve as pages during business meetings, attend educational sessions, participate in the youth committee workshop, and serve as an ambassador for their partnership. The members of the youth committee serve as mentors for the interns during the convention. NAP and the NAP Educational Foundation under-write the internship program.